Welcome to Healthy Aging
Information Headquarters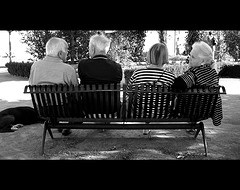 Healthy aging: despite gravity, bad habits, normal wear-and-tear, environmental exposure or genetic predisposition, healthy aging is within your grasp. There are actions you can take to maintain muscle mass, joint flexibility, memory and the overall feeling of wellbeing throughout your life!

Click on photo to read an article on aging by Nobel Laureate Gary Becker.
Custom Search
Fun factoid:
Percentage of those over 65 who assessed their health as excellent or very good: 36.7%
Percentage of those aged 18-64 who did so: 66%
Over a third of our older population considered their health to be either very good or excellent! That's what I'd call healthy aging! I hope you're in that group. Here are some helpful alternative therapies that may increase your assessment.
aromatherapy--aching and stiff joints; dry, sensitive, mature skin; constipation; poor circulation; tired, aching legs
exercise--chronic low back pain; heart health; blood pressure; weight management
homeopathy--swollen hands, ankles or feet; sleep problems; hemorrhoids; grief; osteoporosis; rheumatism and arthritis
meditation--cancer, menopause, stress
T'ai Chi (especially the Qigong version)
--stress, blood pressure, overall health and vitality, posture, breathing capacity, flexibility, range of motion, heart device patients and knee osteoarthritis
(You may also want to use the Research button at left, and read up on Therapy to Benefits. Simply, read down the chart for the alternative therapy, then across for its benefits.)
For those suffering from gout, you may find this page helpful. It gives nine alternative remedies for the painful toe swelling that becomes more common with advancing years. Simply click on link, then close page to return here.
This way to gout page.
Article: 3 tips for Heart Health
Doctor Andrew Weil on Healthy Aging
Andrew Weil, M.D., believes that patients do best using both traditional and alternative medicine. His recommendation: conventional medicine for crisis intervention, and alternative medicine for prevention and health maintenance.
"Integrative medicine" (Dr. Weil's term) is an intelligent combination of both. It focuses on healing the body through the body's own internal healing mechanisms and system.
Dr. Weil began to shift his focus to health concerns of older Americans when he entered his 60s. His main idea is that although aging cannot be reversed, it can be accompanied by good health, "serenity, wisdom, and its own kind of power and grace." Appropriately, his most recent book is Healthy Aging.
Did you know that mycologists (mushroom scientists) Dr. Gustan Guzman, Fidel Tapia, and Paul Stamets named a newly discovered mushroom after Andrew Weil? Dr. Weil had written about the healing properties of certain mushrooms in several of his books, and admittedly is a champion of mushrooms. In 1995, the "Psilocybe weilii" was named for him.
Healthy aging "guru" Dr. Weil actively heads up the Program in Integrative Medicine at the University of Arizone in Tucson, which has trained over 250 doctors, nurse practitioners and physician assistants as of 2005.

What's so great about Vitamin B? Click the photo for access to article on B vitamin health benefits!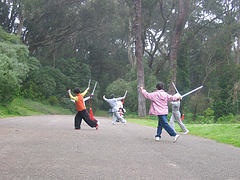 Mayo Clinic exercise guidelines for Older Adults
Yes, you should keep exercising as you age! Just look at these senior citizens exercising in the park with swords.
What have you got to lose? Body fat, arthritic pain and the likelihood of falls and fractures.
What have you got to gain? Better balance and strength, better self image, increased bone density and energy.
Check with your physician first, then consider these guidelines for a strength training program:
Learn the proper techniques for each exercise you do.
Use minimum to moderate resistance for the first few weeks of your program.
More often beats heavier. Instead of adding to the weight, repeat the action up to 20 times.
Breathe continuously. Remember to exhale when using your muscles. The worst thing you can do is hold your breath.
Move slow, with controlled pace. (I've found much hard work for my muscles just letting the weight return slowly to starting position!)
How often? Do your strength exercises two to three days per week. Allow 48 hours of rest between sessions.
Caution: heavy lifting too soon, or using improper lifting technique, may actually damage muscles or joints.
For more on a complete exercise program, see the page on Four Elements of a Well-Rounded Fitness Program.

For seniors, certain exercises are better than others;
follow this link for more information.
...And then, There's the Cost to Consider
Often, our income goes down as our age goes up. This unrelenting fact makes prevention all the sweeter. Also, taking a free
T'ai Chi class in your community or lifting soup cans at home are beautifully inexpensive health care options. May your health only get better as you get older!
Return from Healthy Aging to Home Page.